M50 • L50 Series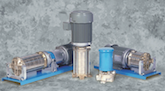 Product Features
- Capacities to 40 GPM
- Heads to 2300 Feet
- Single or Multi-stage Units (up to 5)
- Horizontal/ Verticle Close Coupled
- Horizontal Flexible Coupled
Product Overview
Vertical base mount and horizontal pedestal mounted multi-stage regenerative turbine pumps represent the most economical high performance alternative for low flow (2 to 38 GPM) applications involving moderate to high pressures (heads to 2300 feet).
By combining the latest concepts in hydraulic turbine pump design with precision computer controlled manufacturing, M50 Series pumps deliver high efficiency operation even at low NPSH. Costs are controlled by efficient manufacturing processes, use of standard motors, and highly optimized pump designs. Maintenance costs are kept to a minimum by combining an easily serviceable design with the use of high quality components to provide long life.
Steep Head/Capacity Curve
Pumping capacity varies only slightly as pressure changes. Steep pressure characteristic overcomes temporary line resistances.
Self-Adjusting Impeller
M50 • L50 impellers utilize balancing holes to promote hydraulic self centering, which eliminates the need for external adjustment. The free sliding impeller exerts no thrust load on the bearings, thereby extending service life. Self-centering is equally effective whether mounted in the horizontal or vertical position.
Mechanical Seals
Bronze fitted pumps have Buna N elastomers, carbon washer, ceramic seat, and stainless steel metal parts. Optional seats and materials are available.
1000 PSI Case Working Pressure
Rigid structure is designed for maximum casing strength.
100% Tested
Every pump is fully tested to verify performance prior to shipment.
Volatile Fluid Handling
The turbine impeller handles vapors up to 20% by volume, minimizing the possibility of vapor lock.
"O"Ring Gaskets
"O"ring gaskets are used throughout the M50 • L50 Series pumps to assure positive sealing.
Shaft
Standard shaft is of high strength 416 stainless steel.
Motors
Standard 56C face motors are utilized up to 3 Hp. Five Hp and above are TEFC on vertical base mount units.
Best Efficiency
New pump designs optimize efficiency for each size.
Non-Cavitating
M50 • L50 Series pumps may be operated under adverse inlet conditions without audible or measurable cavitation.