CR, CT, CS, ET, ES, EC, ED
by Burks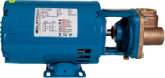 Product Features
- Raceway- Sealing grooves, machined into the face of the raceway, match the impeller sealing grooves, minimizing water slippage and increasing delivery efficiencies.
- Impeller- Annular grooves or sealing rings, machined into the face of the impeller are perfectly matched with corresponding grooves in the raceway and intermesh without metal-to-metal contact to form a labyrinth seal
- Extended Life- Lok(R) adjustment allows for extended life, field adjustment, and restoring factor efficiency as hydraulic passage wears.
Product Overview
Burks Regenerative Turbine Pumps unique design is engineered for high pressure, low flow applications. The raceway conducts fluid into the impeller and then provides a channel for the liquid to move as it is propelled and energized by the impeller. Pumps are available in base mounted and closed coupled configurations.
Technical Data:
Flows To: 2.7 to 4.3 g.p.m.- CR 
                1.0 to 32 g.p.m.- ES 
                0.2 to 8.3 g.p.m.- ET 
                0.3 to 8.3 g.p.m.- CT 
                3.6 to 91.0 g.p.m.- EC & ED 
                1.6 to 32.5 g.p.m. – CS

Heads To: 225 feet – CR 
                 350 feet – All Others

Discharge: 1/2 inches – CR 
                  1 inches -All Others

HP: 1/4 – 5
RPM: 1750 or 3450
Applications:
Feed / Transfer

High-temperature water and oil heat transfer

Boiler Feed and Condensate Return

Circulation

Hot and cold water circulation

Brine recirculation

Hydraulic oil circulation

Metering

Additive metering

Hot water spray

Pressure Maintenance

Jockey pumps

Pressure Booster
Options:
MJ Jacketed Seal – Special seal arrangement effectively handles fluids up to 500° F and eliminates seal cracking and distortion, substantially extending seal life.