150 • 160 • 170 • 250 • 260 • 270 Series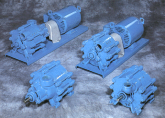 Product Features
- Flexible Coupled
- Capacities to 150 GPM
- Heads to 1150 Feet
- Low NPSH Requirements on 250 • 260 • 270 Series
Product Overview
MTH 150 • 250 • 160 • 260 • 170 • 270 Series regenerative turbine pumps are engineered to provide long life, low-maintenance service for low-flow applications involving moderate to high pressures — such as boiler feed and similar uses. Available in single, two, three, or four stage models, MTH pumps offer these proven design features…
Steep Operating Characteristics
Near-constant capacity is maintained over wide variations in pressure. High shut-off pressure overcomes temporary line resistance.
No Vapor Binding
MTH impellers are designed to handle up to 20% vapor in the liquid being pumped.
No Metal to Metal Contact
MTH clearances enable handling of non-lubricating fluids while maintaining adequate heads.
Low Head Requirements
MTH pumps have excellent NPSH characteristics, which makes them ideally suited for difficult applications.
Minimum Shaft Deflection
Provided by heavy-duty outboard bearing supports on both sides of the impeller.
Balanced Radial Loads
On multi-stage MTH pumps, radial load equalization is designed into the pump.
Standard Pumps
Are Bronze Fitted and have hydraulically balanced impellers, one-inch stainless steel shafts, and corrosion-resistant seals throughout.
Mechanical Seals
Incorporate EPR seals, ceramic or Ni-resist faces, and stainless steel components. These advanced seals permit elevated-temperature operation even with aggressive fluids.
Lip-Sealed #204 Ball Bearings
On both inboard and outboard ends, operate within rugged cast-iron bearing supports and are permanently lubricated for maintenance-free long life.
Replaceable Channel Rings
Of 30,000 PSI cast iron, and Buna "O"rings at all sealing points, contribute to trouble-free operation