DF4-1-1/4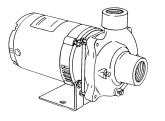 Product Features
- Capacities to 120 GPM
- Heads to 55 ft
Product Overview
FOUR POSITION CASING
Centerline discharge can be located in any of four
positions. Back pull-out design eliminates the need to
disturb piping should the pump ever require service – the
casing stays in the line.
ENCLOSED IMPELLER
Of the latest hydraulic design for maximum effi ciency,
impeller is balanced for vibration-free operation and
threaded onto stainless steel motor shaft.
MECHANICAL SHAFT SEAL
Standard self-adjusting shaft seal for temperatures to
225°F (107°C) and pressures to 150 psi (1034kpa).
Ceramic seat and carbon seal face for long troublefree
service. Special seals are available for higher
temperatures and fl uids other than water.
MOTORS
Standard pump motors have open drip proof construction
and are rated with jet pump service factors for continuous
duty operation. Motors are 56 frame size with NEMA
standard mounting fl ange, one piece threaded stainless
steel shaft and ball/ball bearing construction.
FACTORY TESTED
After careful assembly and inspection, EVERY pump is
factory tested and will meet Hydraulic Institute standards.
MAXIMUM OPERATING CONDITIONS
TEMPERATURE
(For Standard Buna-N Seal)
225ºF (107ºC)
INLET PRESSURE 100 PSI (689kPa)
CASING WORKING PRESSURE 200 PSI (1379kPa)
MOTOR INFORMATION
60 Hz – 3500 RPM – ODP
Single Phase: 115/230 Volt
Three Phase: 208-230/460 Volt
50 Hz – 2900 RPM – ODP
Single Phase: 110/220 Volt
Three Phase: 380 Volt
Voltages may differ from some suppliers. Consult factory.
OVERLOAD PROTECTION
All single phase ODP and Totally Enclosed motors have
built-in overload protection. All three phase motors and all
explosion proof motors must be installed with a magnetic
starter which provides full 3-leg protection. Failure to use
correct starter and overloads will void motor warranty.